Website European Space Agency
European Space Agency are on a recruitment drive for 26 new astronauts!
Applications open on 31st March.
Requirements for an astronaut job at ESA include a master's degree in natural sciences, engineering, mathematics or computer science and three years of post-graduate experience.
Applying to become an ESA astronaut is an exciting and rare opportunity. ESA has only recruited new astronauts three times since 1978. The most recent class began training in 2009 and ESA's newest astronaut, Matthias Maurer, will fly his first mission to the International Space Station this year, following the second mission of ESA astronaut Thomas Pesquet.
Becoming an astronaut is no easy feat. Because of the importance of this role for ESA, Europe, and the world, we expect a high calibre of applicants for our 2021–22 selection campaign. To give yourself the best possible chance, please make sure you read the minimum application requirements carefully before you submit your application.
Applications open 31 March 2021 and must be made via the ESA careers website. Only complete applications made via this site and within the application timeframe will be considered. You will find more information about application requirements in the Astronaut Applicants' Handbook (available 31 March) and in the vacancy notice on the ESA careers website when applications open.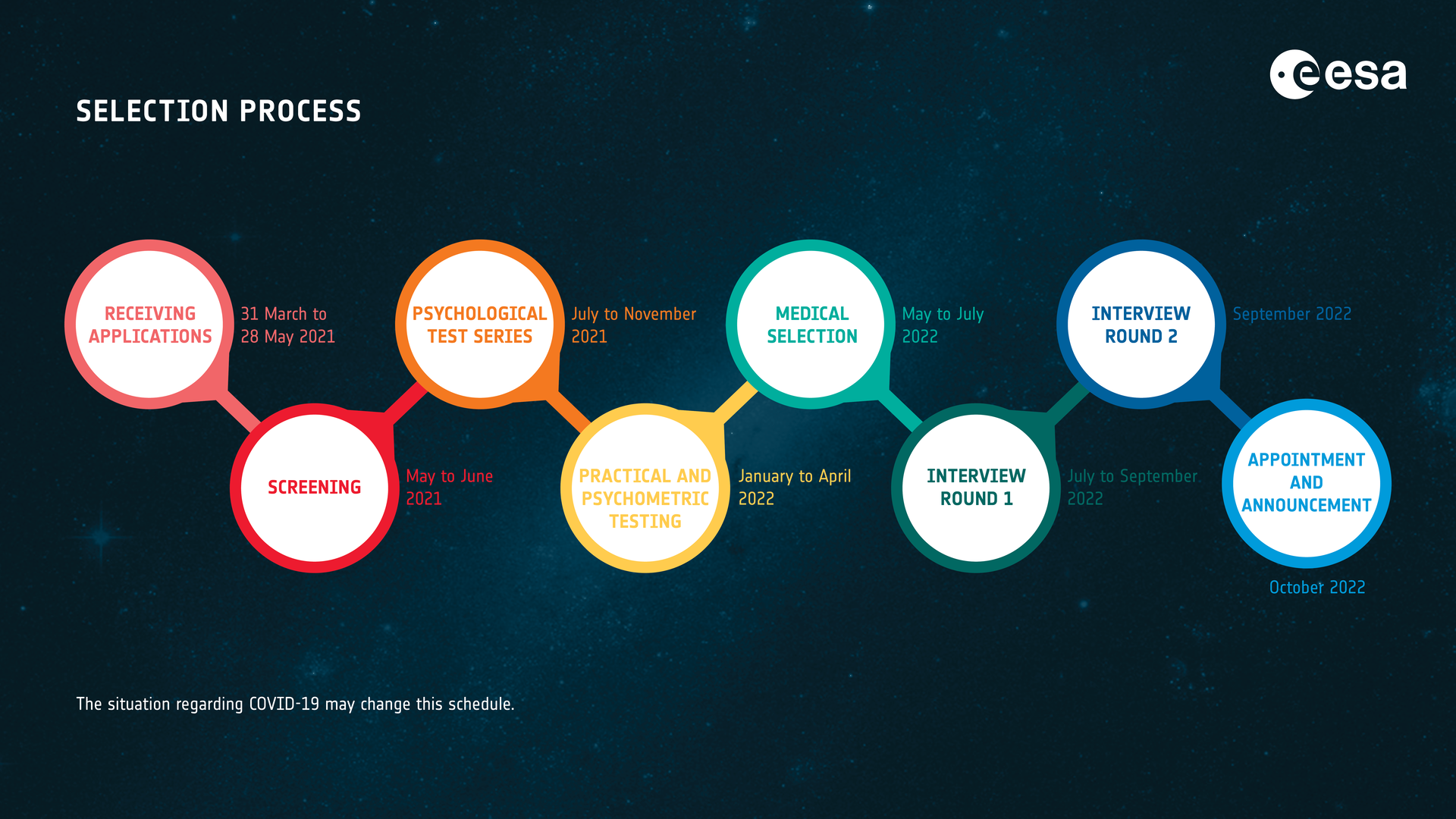 Six stages to selection
From closure of the vacancy notice on 28 May 2021 to the worldwide announcement of selected astronauts in mid-late 2022, ESA's astronaut selection consists of six key stages. These are preceded by a screening phase as follows:
Screening: several screening rounds will be conducted on the basis of all documents submitted with the application form as well as the screening questionnaire completed as part of the application. In addition, applications for the selection of candidates with physical disabilities will undergo a medical screening on basis of the eligible impairments.
Test Phase 1: cognitive, technical, motor coordination and personality testing.
Test Phase 2: psychometric testing, group and individual exercises and practical tests.
Test Phase 3: applicants' physical and mental abilities are measured against international medical standards for spaceflight missions.
Interview Round 1: panel interview in which applicants are tested on technical and behavioural competencies (educational qualifications are verified and criminal record checks are carried out).
Interview Round 2: final stage of the selection process. Applicants who make it through to this stage can expect an interview with the ESA Director General, after which a final decision will be made.
The ESA astronaut selection process is comprehensive. Applicants are asked to be patient as we move through the different stages. More information about selection will be available on 31 March in the Astronaut Applicants' Handbook.
Remember, 'astronaut' is not the only out-of-this-world job at ESA. You will find more information about other opportunities to work in the space business on the ESA careers website. Good luck with your application!
https://equatecareerhub.org.uk/wp-content/uploads/2021/02/esa-logo-square.jpg
450
450
admin
https://equatecareerhub.org.uk/wp-content/uploads/2018/07/logo1.png
admin
2021-02-17 09:34:49
2021-02-17 09:37:51
Astronaut